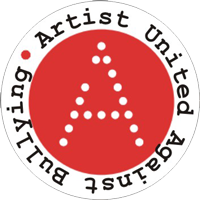 Artists United Against Bullying:  a project to make people aware of the problems and consequences that come from violence and bullying.
Members:
Peter Iwers (bass player of the popular Swedish death metal band "In Flames")
Jeff Scott Soto (American singer who has collaborated also with the legendary Malmsteen)
Paulo Mendonca (Swedish guitar player, singer, producer who has collaborated also with Tina Turner, Craig David, Chris Cornwell)
Fredrik Stenberg  
Alessia D'Andrea (singer songwriter with International hits and collaborations with worldwide renowned musicians)
Ryan Sheridan (Irish singer songwriter at n.1 of the Irish charts)
Heidi Joubert (South African singer songwriter, cajon player, official endorser for Roland)
Luca Faraone (Italian guitar player who lives in London. At the moment in tour with Craig David)
Moses (Italian harmonica player, winner of Italia's Got Talent 2016)
Durga McBroom (legendary Pink Floyd's backing singer)
Claudio "Gallo" Golinelli (bass player of the Italian rockstar Vasco Rossi)
Cristian "Cicci" Bagnoli (guitar player from the Steve Rogers Band)
Fabrizio Foschini (keyboard player from the Stadio)
Adriano Molinari (drummer for the Italian artist Zucchero Fornaciari)
Vasil Stefanov & Stefka Nikolova (filmmakers working in the Est of Europe)
Ive (singer, actress who lives in Sofia)
Anthì Anagnostou (Greek writer of the e-book "All'Ombra del Bullismo")
Franco Ferraina (videomaker), Ted Riverso (guitar player), Franco Catricalà (bass player), Ismaele Rocca (drummer).
The project was born from an idea of Peter Iwers, Jeff Scott Soto, Paulo Mendonca and Fredrik Stenberg.
Our goal:
During the recent years they've been seeing videos, hearing stories and experiencing the destructive consequences of bullying and violence. People in all ages being treated unfair and disrespectful because of different reasons. It is something that we see in the schoolyards, in the locker rooms, in the nursing homes, at the offices, on the internet and the social media platforms.
Attention is awareness:
Bullying is not always something that is easy to detect but if we can give attention to the problem the awareness increases. We want to do it through the transversal language of music and art in general, with the intent to create a real INTERNATIONAL NETWORK of ARTISTS from all over the world.
We have already organized concerts-events in which members of the association perform to make people aware of violence, bullying, a dangerous phenomenon in serious growth.
Why do we do this?
We want to put a spotlight on the problem and make people aware of the problem and consequences that comes through bullying and violence. We share the same view of human equality and the love for music. We want to get people's attention, especially the young guys, through the art that we make.
We can make that difference… United Against Bullying.
Facebook Page:
http://www.facebook.com/artistsunitedagainstbullying

PRESS:
https://hardrockdaddy.wordpress.com/tag/artists-united-against-bullying/
http://www.majornarumble.com/?p=82
http://www.rockbladet.se/2014/09/intervju-artists-united-against-bullying-musik-som-hjalper/
http://www.calabriawebtv.it/alessia-dandrea-il-30-aprile-a-cosenza-promette-un-concerto-ricco-di-sorprese/
http://www.soveratoweb.com/alessia-dandrea-ritorna-a-cosenza-con-un-concerto-pieno-di-sorprese/